QCL Donates Termidor To Amuru couple.
Quality Chemicals Limited, led by their General Manager Ajay Mahadik and Public Health Manager Nicholas Katongole, have today handed over bottles of the termite control treatment, Termidor along with a donation of 1.6 million Ugandan Shillings to Bicentina Alal and her husband Tito Okema at their homestead in Kali-Kali village, Layima sub-county, Amuru district. The couple recently made headlines when they lost 1.6 million shilling to termites.
Alal explained to the media that she and her husband, Okema, had been saving their money in a metallic case for over 3 years and it was safe. This was until a month ago when they opened the metallic case and saw a mound of mud that resembled a termite colony. They found their money in tatters and was barely recoverable.
Speaking at the handover session, Ajay Mahadik the General Manager at Quality Chemicals Limited said that the company decided to step in to make the donation because community is central to their culture as a company.
"Quality Chemicals Limited has, for all the 24 years of its existence been a community first company. We care for the health and safety of our community and that is why we saw the need to step in and provide financial aid, but even more pertinently, provide a longer lasting solution to Alal's ordeal," stated Mahadik.
Nicholas Katongole, the Public Health Manager added, "helping her save money in safer places is undoubtedly great support. In addition to that, how can we help keep their house and their other precious things safe from being ravaged by termites?"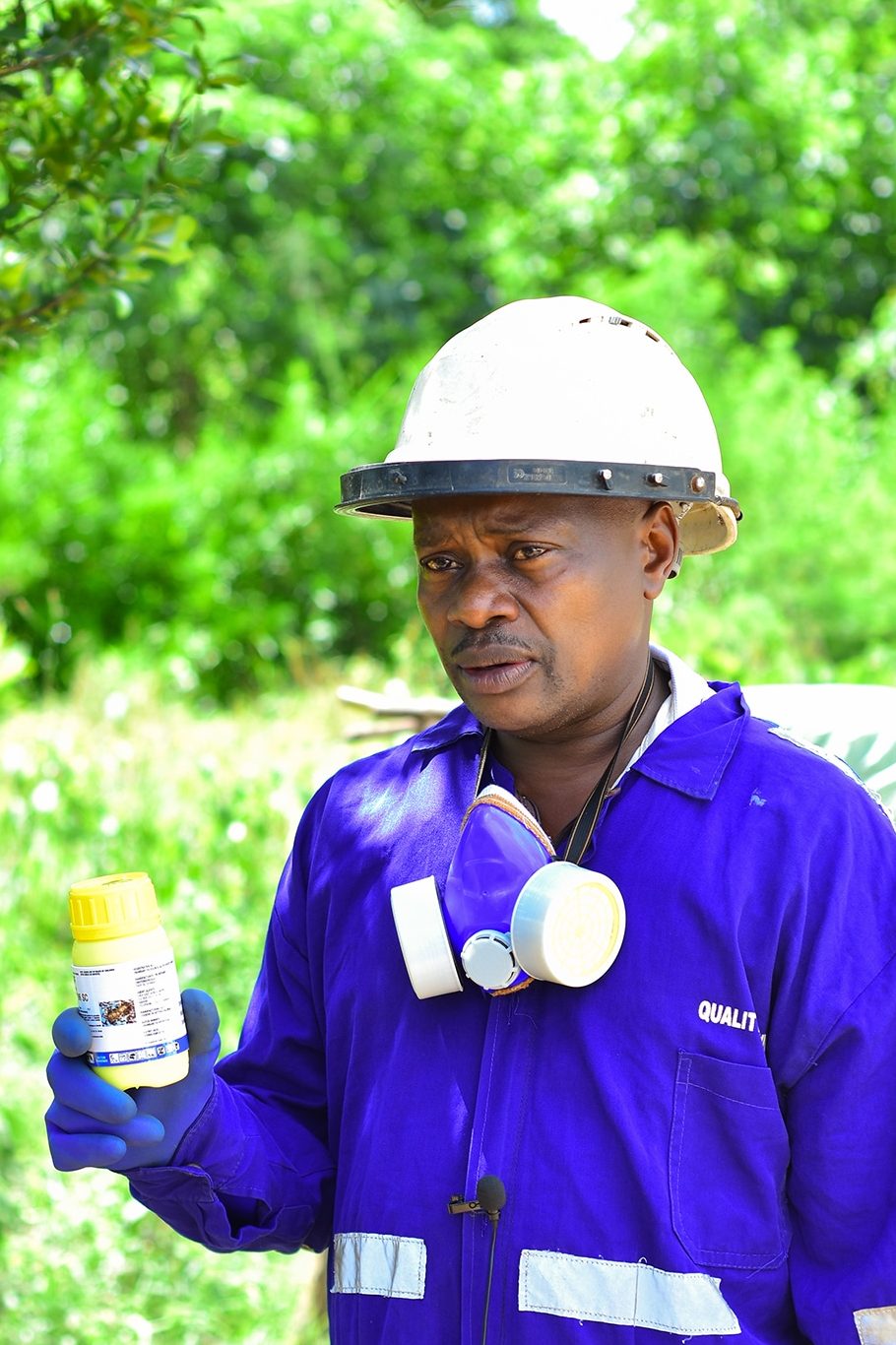 "We have introduced her to Termidor 96 SC, a termite killer that will wipe the termites out of her homestead once and for all. Termidor is especially effective because of its unique transfer effect. The termite killer is undetectable by termites, which makes it impossible for them to evade, and therefore unknowingly come into contact with it. The termites obliviously carry Termidor to the colonies, consequently rippling the treatment and killing every termite that comes in contact," Katongole explained.
The Quality Chemicals Limited team then took the couple and their family through a short demonstration of applying Termidor and emphasized the benefits of the product and the effectiveness of the new formulation.
Tito Okema said he was elated that a company in the caliber of Quality Chemicals Limited could extend a hand of assistance to their issue.
"I thank Quality Chemicals Limited for providing a long lasting solution to our termite problem. We hope that we don't have to get into the news again over losing money to termites," said Okema.
About Quality Chemicals Limited.
Quality Chemicals Ltd (QCL) is the leading supplier of quality science solutions that spun the panoply of Human Health, Animal Health, Public Health and Crop Health products.
Incorporated in 1997 as a private Limited liability company, the company was founded on the premise that there existed within the life sciences market place; a niche for a company that could provide a quality, eminently professional service and yet at the same time was attentive, responsive, helpful and friendly to the needs of the African markets.
The company has been very successful at the marketing and distribution of a wide range of commodities used in Human, Animal, Crop and Public Health.