The Peculiar Love Story Of How Gloves Were Invented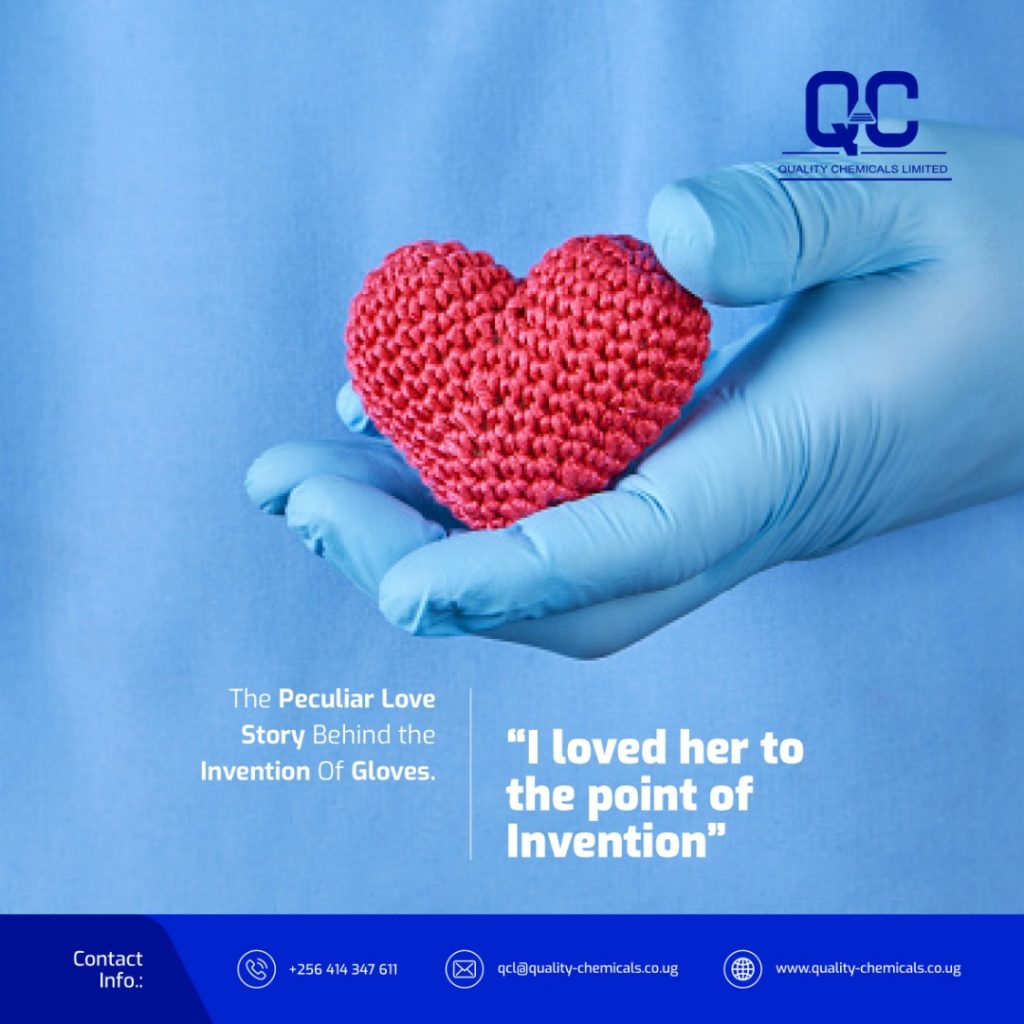 In Uganda, gloves are as much a symbol of hygiene as they're an epiphany of pride. Mostly because there is no reason to wear gloves outside the operation room. Ours is a very unpredictable climate, yes, but never that cold to warrant the necessity of a cotton or cloth glove. So why are we talking about gloves? It is because soon, Quality Chemicals Limited will be launching its line of medical gloves. In the meantime, we are going to be educating our clients, audience, and partners about gloves, so that you all understand why we emphasize the great caliber of quality they will be manufactured in.
Today's tale was carved at Baltimore's Johns Hopkins hospital, circa 1889.William Stewart Halsted, then a privileged 36-year-old bachelor had eyes for a nurse, Caroline Hampton. He, a great surgeon with a towering figure in the history of American medicine and she, an aristocratic South Carolina nurse at the hospital. Though bred by a socially prominent family, Carolina's family had been impoverished in the hard times of the post-civil war period. In his own words, the late Dr Halstead made the move during the winter of 1889 and 1890.
She was, according to fellow work mates, the object of his attention and affection way before he could even admit it to himself. Halsted noticed she suffered more than most from the occupational dermatitis of the operating room and he interpreted this as a sign of her ''gentle blood.'' So much so that he moved to seize the opportunity to create an impression.
"I cannot recall the month, the nurse in charge of my operating room complained that the solution of mercuric chloride produced a dermatitis of her arms and hands. As she was an unusually efficient woman, I gave the matter my consideration and one day in New York requested the Goodyear Rubber Company to make, as an experiment, two pair of thin rubber gloves with gauntlets. On trial these proved to be so satisfactory that additional gloves were ordered," Dr. Halstead recollected during an interview with the Journal of the American Medical Association in 1913.
During three decades at Johns Hopkins, Dr. Halstead developed a plethora of new operating techniques, including a procedure for hernia, as well as established a training program and residency system for young surgeons that became national models. Like most "firsts," the claims made for Halsted as the originator of surgical rubber gloves are not free of challenge. But that hardly matters now. It was unquestionably their use at the prestigious Johns Hopkins Hospital that led to widespread adoption.
One staff member wrote later that he strongly suspected a romance was in progress when he walked into the Johns Hopkins pathology laboratory and found the normally aloof and reclusive Halsted passionately demonstrating the anatomy of a dried fibula to his future bride. Their engagement was announced within a week. The privileged and equally aristocratic Halstead and his nurse were married in June of 1890 shortly after he presented her with two pairs of rubber gloves made to fit plaster casts of her hands.
Halsted, himself, admitted with some chagrin that it had not occurred to him initially that rubber gloves could be a powerful new weapon against infection. He confessed that his primary concern was protecting the hands of his chief surgical nurse from the harsh disinfectants used in hospital operating rooms at the time.
The story of Dr. Halstead is indeed, very inspiring. It is just a snippet of the many aspects of medical evolution that have inspired Quality Chemicals Limited's soon to be launched product line of gloves.